Lowbed Semi Trailer (2 – 7 axles)           
designed for highest loads with various payloads
The series of CHINA HEAVY LIFT lowbed trailers includes many different low bed variants for the most different transport challenges. The strengths of the double drop trailers are its payload capacity, the various lowbed possibilities and the agile handling.
Lowbed Semi Trailer (7 – 10 axles)           
hydraulic suspension, hydraulic steering, hydraulic gooseneck
Prepared to face every task. Regardless of when you need a versatile vehicle, CHINA HEAVY LIFT hydraulic semi lowloaders are your first choice. With the same vehicle bodywork, different axle units can provide you with exactly what you require for your applications: low loading height, extraordinary axle compensation or maximum robustness.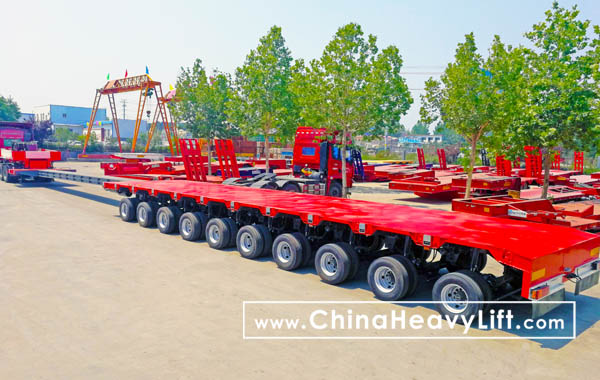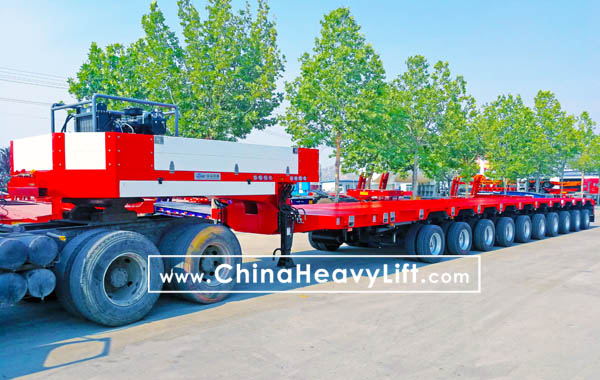 Hydraulic Suspension
the platform (lifted by hydraulic suspension) can be securely positioned and loaded at different heights without mechanical locking. It enables the loading of gooseneck even for machines with low ground clearance
Telescopic Beam
extendable up to 50m with a high payload. economic and flexible solution to a multitude of different transport tasks, such as wind power plants (tower segments, generators, rotor or turbine blades)
Hydraulic Gooseneck
hydraulic gooseneck enables the automatic load compensation between gooseneck and axles. moreover, it offers the possibility to lift and lower the front area of the loading platform, in order to facilitate the crossing of particularly uneven terrain
Change your outlook on what a equipment made in China can do
CHINA HEAVY LIFT is the leading full-range manufacturer of special vehicles for heavy load transport and special transport.
The semi-trailers, lowbed trailer, telescopic wind turbine blade trailer, wind tower section trailer that we produce can be used to transport anything exceptionally heavy, long, wide or tall
Our customers value our reliability and flexibility in offering tailored transport solutions even in the face of difficult challenges. Our vehicles excel with their technical quality and sustainable production methods.