Heavy-duty Modular Trailers, Hydraulic multi axle Trailer, Cost Effective options, Simple operation
optional 685mm or 770mm min platform height, lowest dead weight on market, 34 ton axle load, simple accessible steering, a variety of model options
| | |
| --- | --- |
| Capacity | 34 Tons/axle line @0.5km/h |
| Dead weight | 3.3 Tons/axle line |
| Material |  S550 high tensile steel, 550Mpa |
| Platform height (mm) | min 770 mm   1080(+290)(-310) mm |
| Wheelbase (mm) | 1,550 |
| Tire | 215/75 R17.5   8 tires / axle line |
| Approach / Departure angle | 20° / 26° |
| Support mode of platform | 3 points and 4 points |
| Max.steering angle of first wheel | + / – 55° in all ride heights |
| Technical Parameters | Goldhofer heavy duty modules |
| | | | | | | | |
| --- | --- | --- | --- | --- | --- | --- | --- |
| Speed (Km/h) | 0.5 | 5 | 10 | 20 | 30 | 40 | 50 |
| Axle load (Tons) | 34 | 30.7 | 28.2 | 25.8 | 21.6 | 20.0 | 18.4 |
Cost-Effective, Economical solution also works for heavy transportation.
CHINA HEAVY LIFT combine long-term know-how into product, set new standard in heavy transport sector, achieved best dead weight to payload capacity ratio.
The modular design of CHINA HEAVY LIFT offer a multitude of combination possibilities, adjustable for almost any transportation task. With its numerous model versions and choice of accessories, CHINA HEAVY LIFT is a reliable and cost- effective transport vehicle on public roads and for in-plant tasks.
Optional a variety of model which are able to Compatible with EU made trailers, such as Nicolas MDED, Scheuerle InterCombi, Kamag K25, Cometto MS.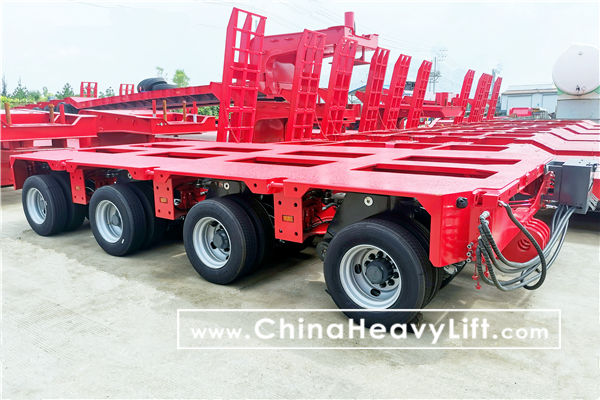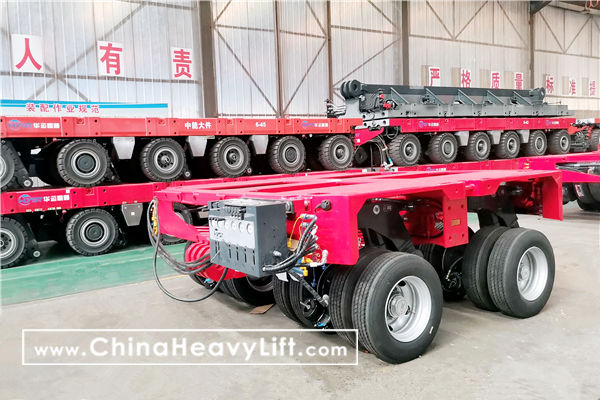 production inside factory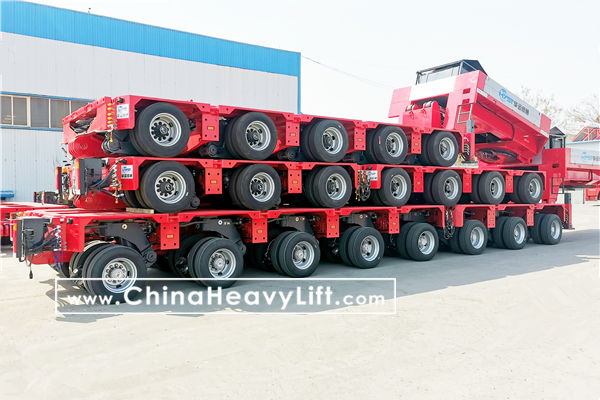 2 gooseneck + 20 axle lines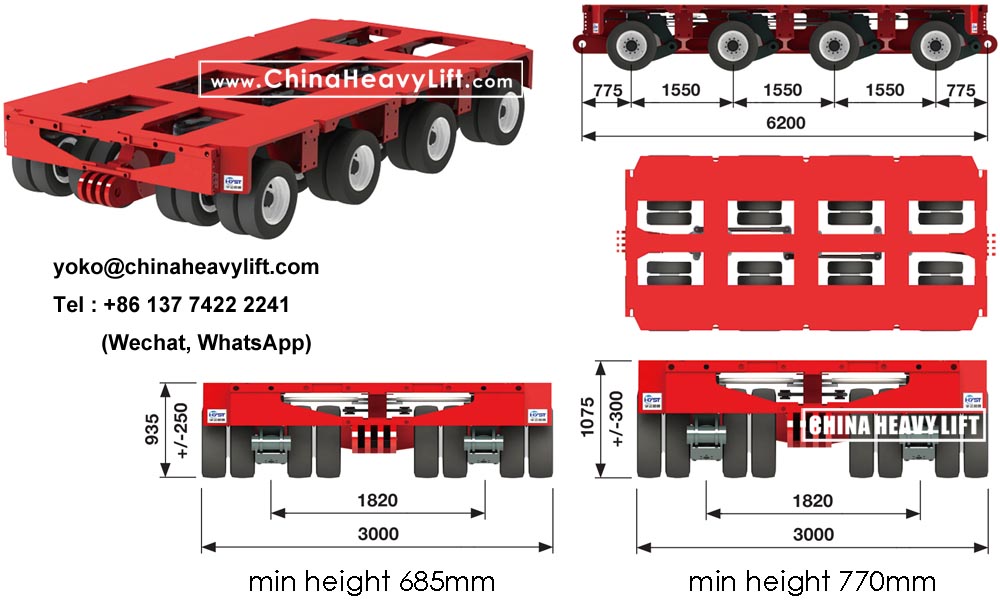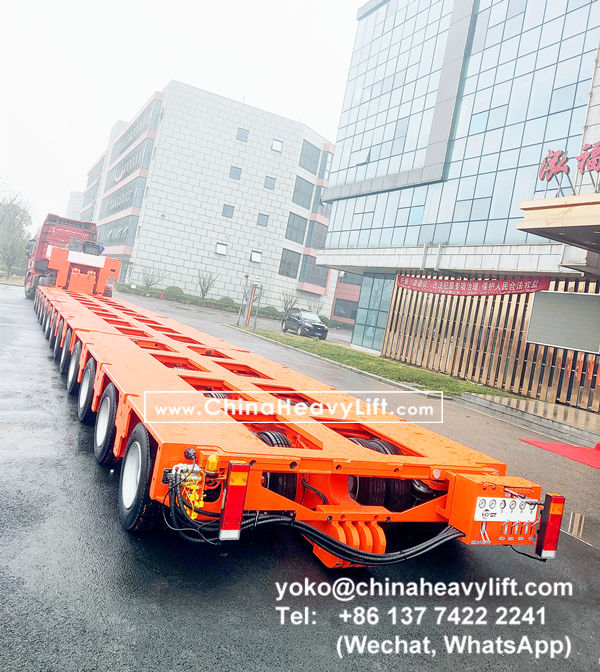 As the Chinese leading manufacturer of Heavy-duty Modular Trailers, CHINA HEAVY LIFT has provided Reliable, Flexible and Cost-effective solutions for customers whose business involves transporting loads weighing from 100 ton to over 5,000 ton.
CHINA HEAVY LIFT have accordingly been committed for 15 years (since 2003) to the continuous further development of our modular trailer systems, which are deployed for all kinds of transport operations under the most demanding conditions.
CHINA HEAVY LIFT Philosophy is that we manufacture the most Reliable products in most Reasonable price. We want something improved. We offer Better capacity, competitive price, after-sale service, and spare parts supply chain. We're always looking for the long term, high availability, cost-effective, we always try to provide a solution not just a product.
CHINA HEAVY LIFT is the Largest heavy-duty modular trailer manufacturer factory  – No.1 in China. we design our own standard trailers, also has the ability to Fully Compatible with other brand trailer base on long term research and development, such as Goldhofer THP/SL, Scheuerle Intercombi, Cometto MS, KAMAG K25, Nicolas MDED, with rich experience of oversea sales and after sale service for 9,400 axle lines in over 60 countries
Due to the flexibility, CHINAHEAVYLIFT Modular Trailers play an important role in most powerful heavy-duty transportation systems worldwide, such as in power plants, oil and gas industries, road transportation, shipyard and offshore industry, plant construction sites. Additional components (Combination Accessories) such as Gooseneck, Draw bar, Spacer, Dropdeck, Girder Bridge, Turn tables, etc. serve to ensure optimal adaptation to the requirements of each load and transport route.
Model series of Modular Trailers     

Nothing is too heavy or big

CHINA HEAVY LIFT offer a wide product range comprises different model series of Modular Trailers with various load capacities, platform heights and vehicle widths
Accessories for Modular Trailers           

Flexibility for all sorts of loads

CHINA HEAVY LIFT offer optional extensive range of Accessories to enhance your professional transport solution, such as Gooseneck, Drop Deck, Spacer, High Girder Bridge, Vessel Bridge, Turntable
Advantages of CHINA HEAVY LIFT           

Nothing is too heavy for our modules

Safety is always the priority. an innovative modular trailer concept come from our technology and experience, Chinaheavylift is the right vehicle for any application, no worry about Heavy
High bending moment on the market
By reinforcing the main beam, the admissible bending moment has been optimized and increased. Thus, CHINAHEAVYLIFT Modular Trailer offer the high bending moment for high load reserves. The height of the beams has been maximized in such way that make a robust and durable construction with high bending moment, high concentrated load bearing capacity.
Reinforced lamellar coupling
The coupling fins on CHINAHEAVYLIFT Modular Trailers have been reinforced. This counteracts the usual rapid wear of the fins, which is originated by the steering movements of the vehicle combination in combination with a locked coupling cylinder. Furthermore, the reinforced fins of Modular Trailers stabilise end-to-end coupled vehicle combinations when driving around bends.
Tested fixing and lashing material
CHINAHEAVYLIFT Modular Trailers comes with fixing and lashing material which has been tested and accepted by official authorities like CE Certificate. The lashing rings can be used for load securing and crane loading of the vehicle. The hole pattern for the side-by-side coupling elements has not been changed, therefore existing equipment can still be used.