SPMT, Self Propelled Modular Transporters,     Electronic Steering, Independent Control
The First SPMT researcher and Manufacturer in China, with long time Producing and Marketing experience, Chinese heavy transportation Record Holder
| | |
| --- | --- |
| Capacity | 48 Tons / axle line |
| Dead weight | 4 Tons / axle line |
| Material | S690 high tensile steel |
| Platform width (mm) | 2,430 |
| Platform height (mm) | 1,500 ± 350        (700 mm stroke) |
| Wheelbase (mm) | 1,400 |
| Tire | 355/65 R15       4 tire / axle line |
| Tractive force | 160 KN per driving axle line (80 x 2) |
| Steering angle | +130° / -110°       Rack and Pinion |
| Working temperature | -40°C to +50°C |
| Permitted bending moment | -6,262 kNm / +7,785 kNm |
Thanks to the Modularity, Flexibility, Precision in maneuvers even in confined areas and the wide range of accessories, CHINA HEAVY LIFT manufacture Self-propelled Modular Transporters (SPMT) offer reliable and cost-effective solution of loading platforms according to the specific requirement of load in many different applications such as heavy haulage, oil&gas, electricity power plant, metallurgy, chemical industry, construction, shipbuilding, marine engineering etc.
Optional power pack units (PPU), such as DEUTZ, Cummins, various power according to the required number of driven axles
Adopt all world class main components, such as DEUTZ, Rexroth, Aeroquip, STAUFF, AKG, AUTEC, higher quality with longer life time, equal Scheuerle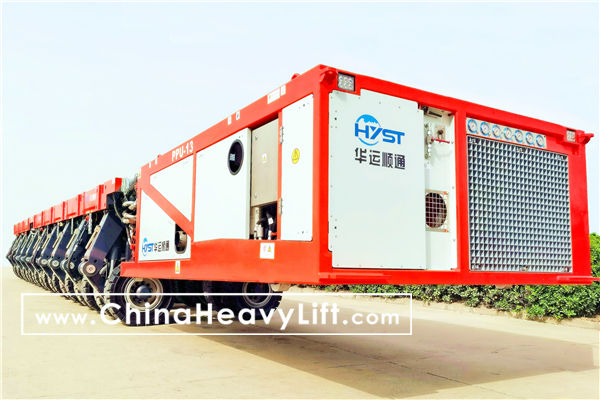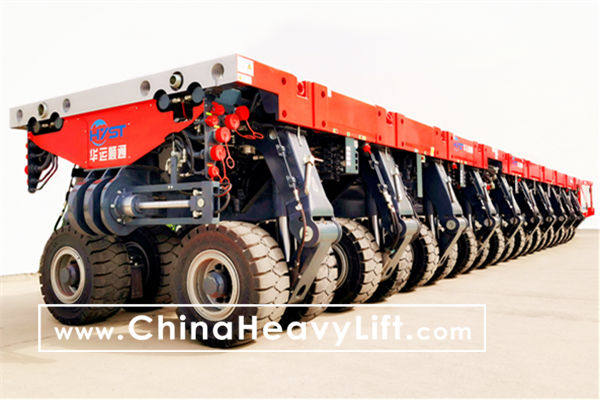 Self propelled modular transporter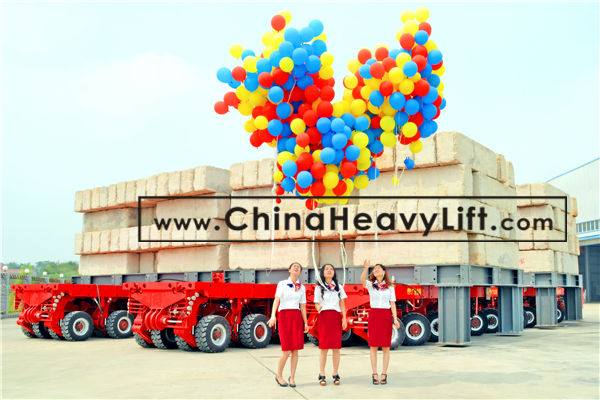 52 axle lines, 2,000 ton loading test
Advantages of CHINA HEAVY LIFT           

Nothing is too heavy for our SPMT

Safety is always the priority. an innovative SPMT concept come from our technology and experience, Chinaheavylift is the right vehicle for any application, no worry about Heavy
The First SPMT researcher and Manufacturer in China
SPMT from CHINAHEAVYLIFT have long time testing and marketing experience, the production system has matured and achieve mass production. CHINAHEAVYLIFT SPMT is National High-Tech Products and won the national new practical patents.
Longer time testing and practical use verification
CHINAHEAVYLIFT SPMT is based on the designing and manufacturing concept of high strength, high-configuration, high reliability. Structural parts are made and welded of high-strength steel plate pass the testing by SGS and professionalUniversity and other well-known third-party testing recognition, like welding procedure qualification testing, all non-destructive testing, strain testing for steel structure under concentrated load; the frame is the overall processed after welding to ensure the accuracy of combination; Main components all adopt world class famous Germany brands, such as DEUTZ, Rexroth, Aeroquip, STAUFF, AKG, AUTEC, etc, guarantee the quality and life of the trailer; Safety performance of vehicles passed the CE Certification by the TUV which is the directly agency of German Quality Inspection Administration; For quality control, in strict accordance with the ISO 9001 quality management system in entire production process. Vehicles pass a variety of different conditions testing for entire one year(Up to 38 test items), Performance of product has matured. We are the Only manufacturer in China which has already passed a large number of testing and verification like unload, heavy load, overload, slope, durability, achieved lots of inspection and approval by International and domestic testing and safety certification organization, and we have extensive experience of engineering transportation, combination and alignment position.
More powerful performance
CHINAHEAVYLIFT SPMT is equipped with more powerful engine, Larger displacement hydraulic pump, when combined with each other, will realize faster traveling speed, faster respond for steering and lifting, more superior synchronization. And our SPMT is equipped with faster ratio reducer, can provide larger driving force through same driving pressure, driving force can reach up to max. 17.6t per axle lines.
Electronic-hydraulic control technology
The most outstanding technical advantages of CHINAHEAVYLIFT SPMT compared with other Chinese manufacturers, is Electronic-hydraulic control technology, through long time technology exchange from international summit and domestic well-known institutions, combined with practical engineering transportation needs, we are the first company in China that breakthrough the technical barriers of precise positioning control for hydraulic self-propelled trailer, our SPMT have the leading international technology of controllability micro positioning,

Micro Move Speed≤2mm/s, Positioning Accuracy≤1mm

, the clients can realize high accuracy combination alignment position for modules through our SPMT.
Rack and pinion steering mechanism
The design calculations and reliability of steering mechanism are very important for rack and pinion steering mechanism of CHINAHEAVYLIFT 2.43m wide SPMT, because of high axle load, large steering resistance moment, meanwhile withstand the axial force, radial force, overturning moment and torque and other complex joint effect. CHINAHEAVYLIFT is the only manufacturer which have rich practical experience in designing and using the steering mechanism, product system has matured, while other factories in China are still in the trial produce stage.
Frame with extremely robust and high load-bearing capacity
The frame of CHINAHEAVYLIFT 2.43m wide SPMT is the important part for loading, anti-bending and load transferring, also is the important part to ensure steering accuracy and stitching precision, so not only need a overall process for frame connecting end, but also mounting holes of suspension steering mechanism need a overall process together with frame to a clamping molding. Our frame processing using CNC gantry milling machine and CNC floor type boring for clamping and processing. Steering mechanism and beam from other Chinese manufacturers adopt integrated structure, they can only do welding after process beam, Welding deformation will inevitably affect the accuracy of the relative position of suspension, even more serious is welding deformation will affect the accuracy of rack and pinion box, which are already processed before.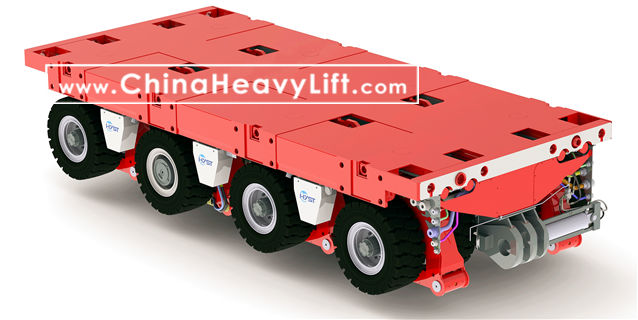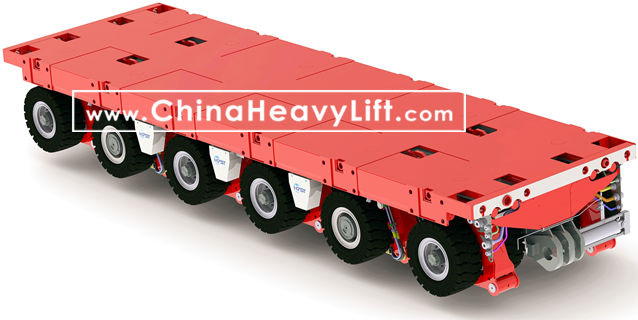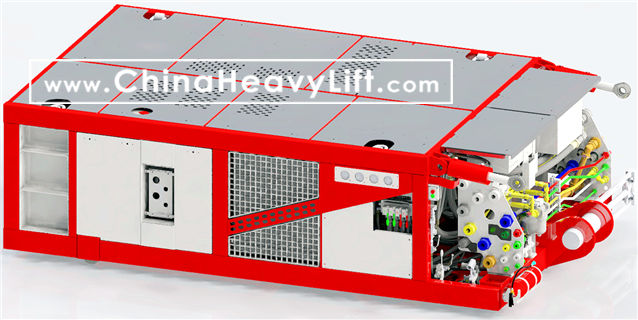 What is SPMT           

How does SPMT work, brief specification of SPMT

Applications, Features and Benefits
Description
Electronic steering Self Propelled Modular Transporters(SPMT)
Equal Scheuerle made SPMT
The SPMT is especially useful wherever there's no access for a crane or truck. They allow the load to be moved in multiple directions, and over distances longer than is practical with a hydraulic gantry or skidding system
Characterized by the following features:
–  electronic-hydraulic multidirectional steering
–  module width in container dimensions for low transport costs and
–  high payload capacity per axle line
Frame
The SPMT platform is a closed frame construction and mainly consists of a trapeze-type main beam, parallel arranged bogie beams, transversally connected by the lateral booms to the main beam.
–  standard main beam: for axle loads up to 48 ton, called M78 frame
At the front sides:
–  lamellar coupling arranged below, with hydraulic coupling bolts at one side, to allow coupling of the platform in longitudinal direction. The hydaulic.coupling bolt can be operated from both sides.
–  push bars arranged on top along the whole vehicle width with integrated centering supports in form of centering rings and centering pins, as well as boreholes to fix the bracing element.
–  two lashing rings welded at each side with a capacity of 8.000 daN to tow the platform trailers during the transport to the operation site
Above or in the platform:
–  metal sheet welded between the axles, above the outriggers for defined load introduction outside the main beam.
–  load equipment integrated between the first and second, as well as the penultimate and last axle line and optional with shackle for easy loading by crane. Use as attachment point incl. capacity of 10.000 daN
Laterally along the platform:
–  flange plate arranged above the axles, with integrated drilling pattern to couple the platform trailers parallel to each other; or for fixation of e.g. bolsters or other accessories to be attached to the platform. optional lashing point integrated in the flange plate with a lashing capacity of 13.400 daN in all directions
Wheel bogie
The wheel bogie of the platform trailer consists of wheel bogies with drive axles, brake axles or running axles, arranged beneath the transverse beams and swivel-mounted by means of steering head bearing integrated in the transverse beam, supported by single-acting hydraulic cylinders. The bogie is designed for an axle load up to 48 tons. It is standardly installed in each platform trailer
Maintenance-free pendulum bearing of the axles
Maintenance-free swing arm bearing by joint bearing with grease lubrication
Solid Tire
Heavy duty industrial filled sold tires, tire model: 355/65-15
Hydraulic support and lifting
Hydraulic axle compensation, hydraulic lifting device of the platform
Pipe- and protection system in one circuit design in the hydraulic support system
Each support cylinder can be removed from the system by a shut-off valve (ball valve) with help of an axle plug. After lowering the platform, the bogie can be mechanically arrested and after relifting the bogie is lifted
Installed shut-off valves (ball valves) between each axle, this means the single bogies can be divided into 3 or 4 point support
Steering System (Electric – hydraulic Multi-Mode control)
The bogies are steered by an electronic-hydraulic multidirectional steering (All Directional Electronic Steering System). It consists of the digital steering electronic with several steering programs and the hydraulic steering device, performed as double rack-gear
Such way a steering angle of +/- 130° results
For combinations in open compound, the steering pole is freely programmable
The infinitely adjustable proportional valves on the bogies are activated by joystick which are installed on the remote control, thus the hydraulic steering drive is driven
The steering propulsion is designed in such a way that during standstill and under full load steering and change of steering programs are possible
The following steering programs are at disposal:
–  all-wheel steering lengthwise
–  all-wheel steering transverse
–  diagonal steering lengthwise
–  diagonal steering transverse
–  truck steering front
–  truck steering rear
–  carousel steering
Brake
Hydraulic-mechanic service- and parking brake
The hydraulically actuated spring-accumulated brake cylinder and a slack adjuster are used to actuate the S-cams and the pad is pressed to the brake drum
The required hydraulic release pressure is generated by the axial piston adjustment pump of the steering system in the PPU and the braking is performed via a finely dosed pressure control valve
Due to the spring force in the brake cylinder, the combination is still safely braked and held in case of failure of hydraulic supply
more detail of Applications, Features and Benefits, please contact us ~
Related News of Chinaheavylift SPMTs