Chinaheavylift manufacture 100 axle lines SPMT Self-propelled Modular Transporters assist 3200 ton Hong Kong-Zhuhai-Macao giant bridge section RORO on barge, compatible Scheuerle SPMT
with the strong support from CHINA HEAVY LIFT SPMT, our client Guangdong LIFT Engineering Machinery Co.,Ltd (GPEC) was contracted by Wuchang Shipbuilding Industry to transport 3,200t giant bridge section roll-on to barge for Hong Kong-Zhuhai-Macau Bridge project in Zhongshan city, Guangdong province.
This giant bridge section, weighed 3,200 ton and dimension 132.6 m x 33.1 m, were transported from the fabrication facility yard to the barge by using total 100 axle lines SPMTs. So, how to move this giant steel structure onto the barge safely and accurately? As there's over 20m distance from the bridge section and barge, crane is not suitable for this project. Based on the analysis of actual situation, our client GPEC choose the better solution of CHINA HEAVY LIFT SPMT Self Propelled Modular Transporters, which is more cost-effective and easier to operate, also able to compatible with Scheuerle SPMT.
Normally it will take 5-6 hours to roll-on, but in this project, we need complete the whole process in 2 hours as the reason of Tidal influence. Also, high precision is essential for roll-on, deviation is controlled smaller than 5mm in every 100m movement. This requires everyone and every steps close-cooperation and no mistake permitted.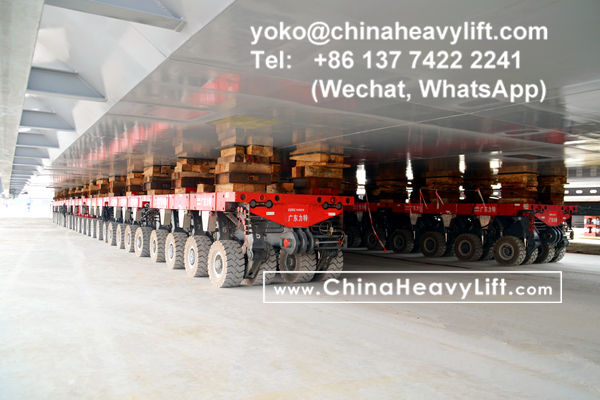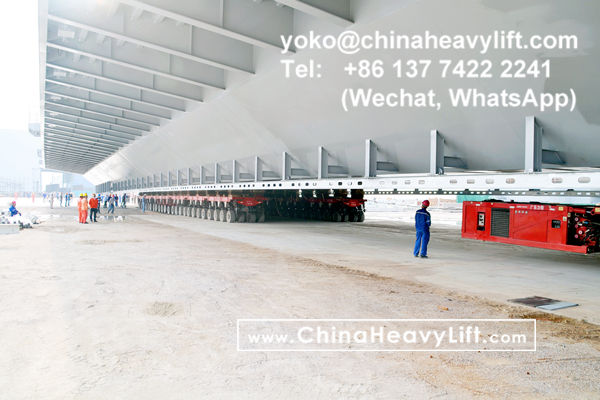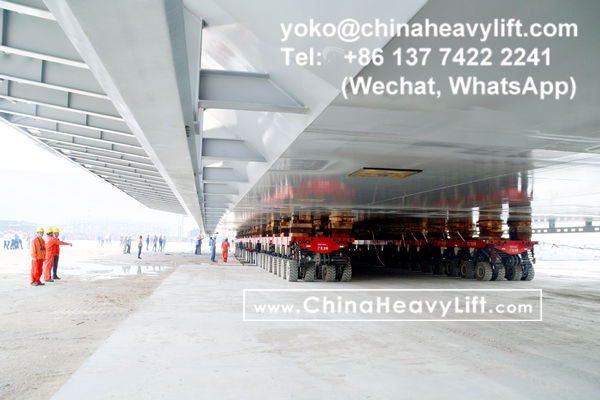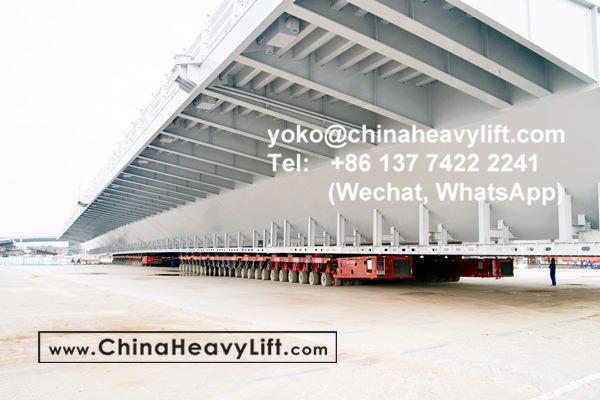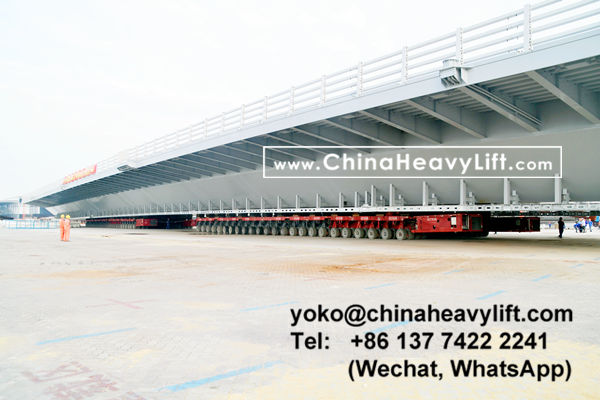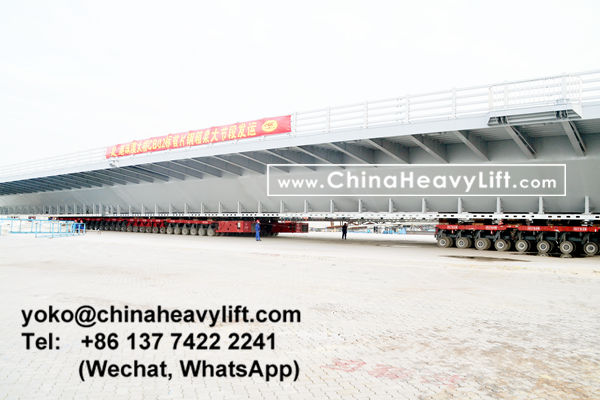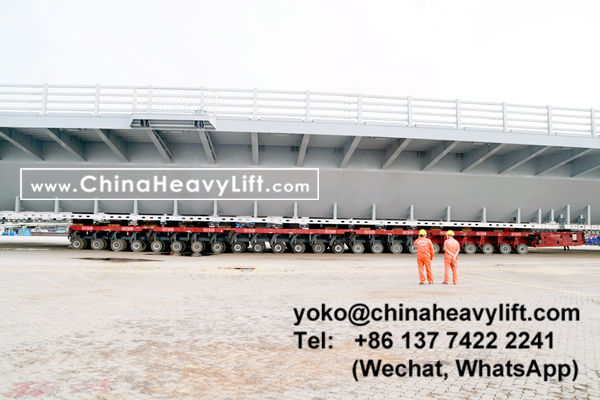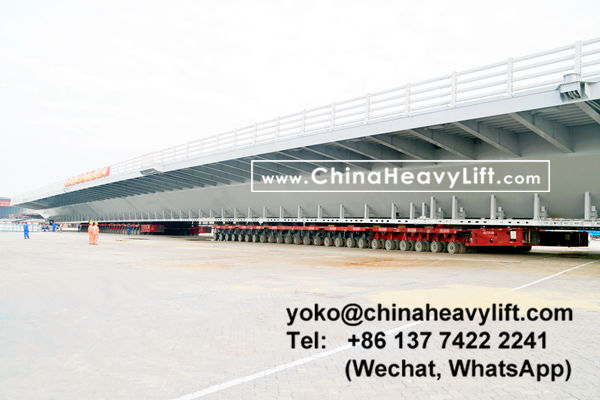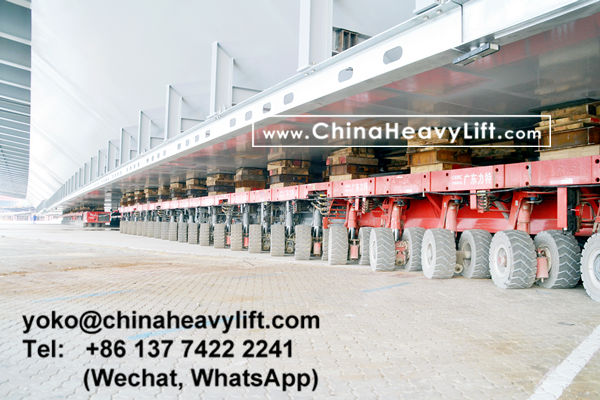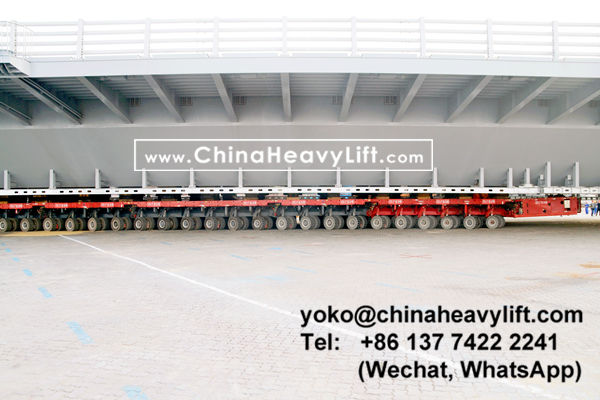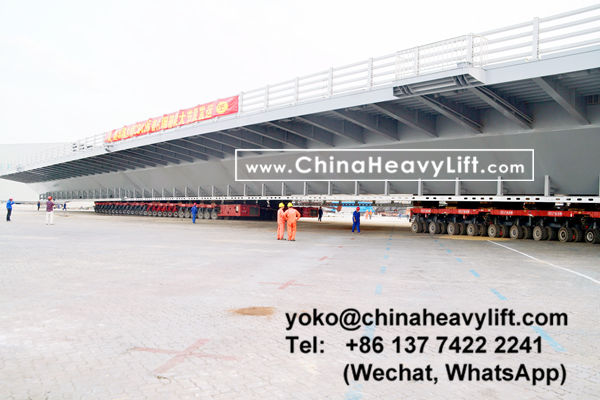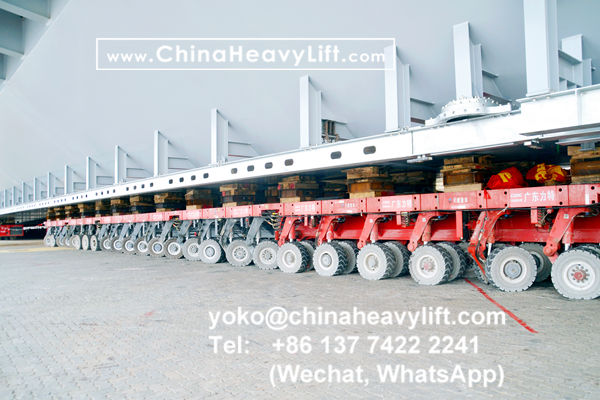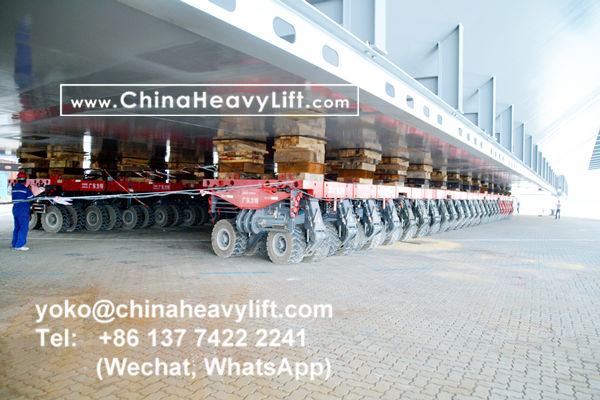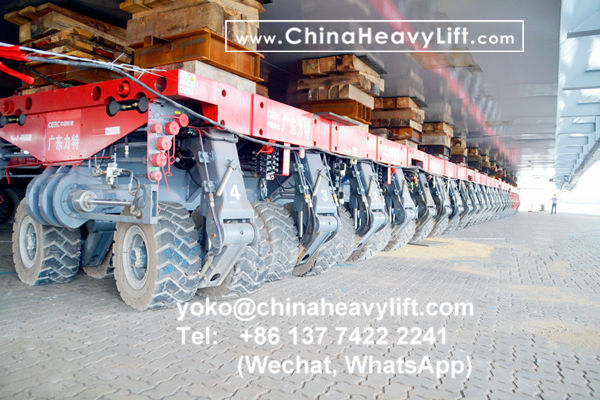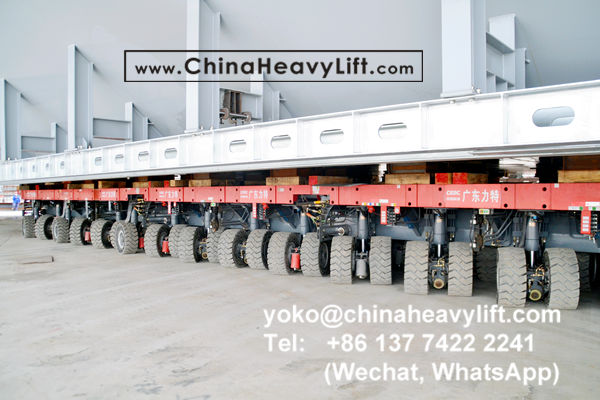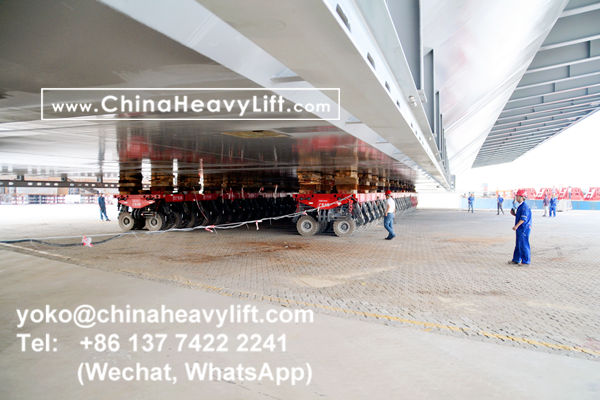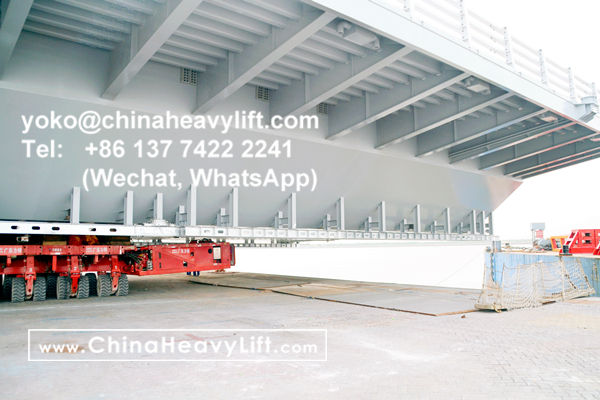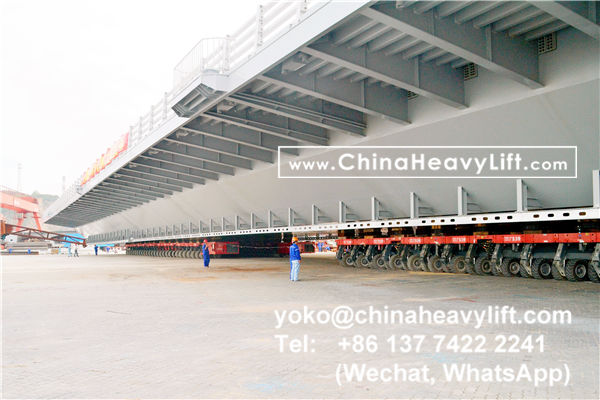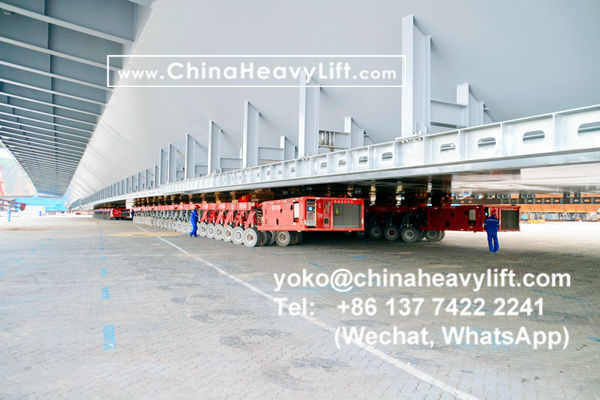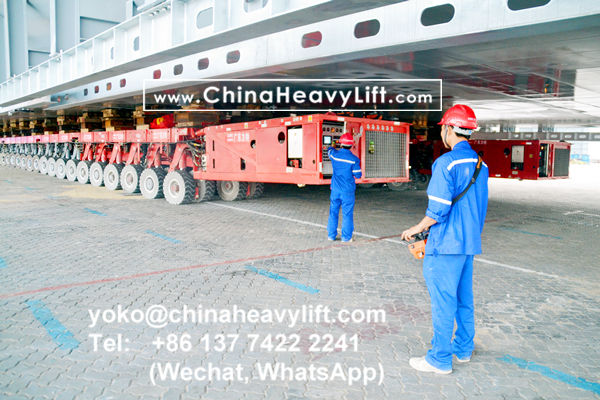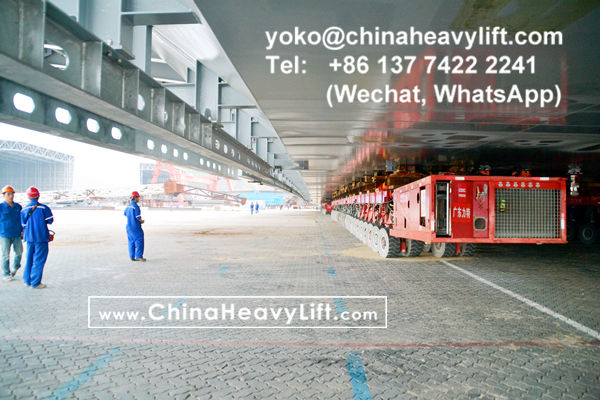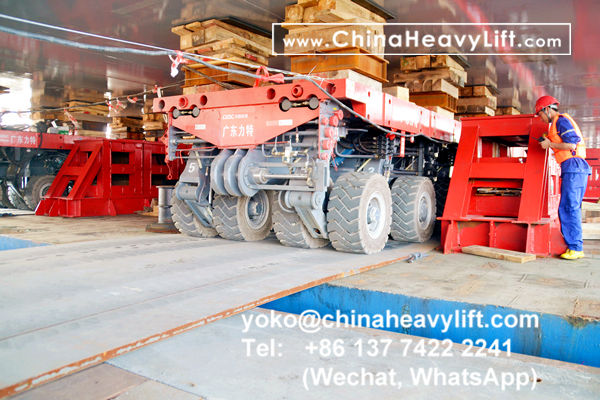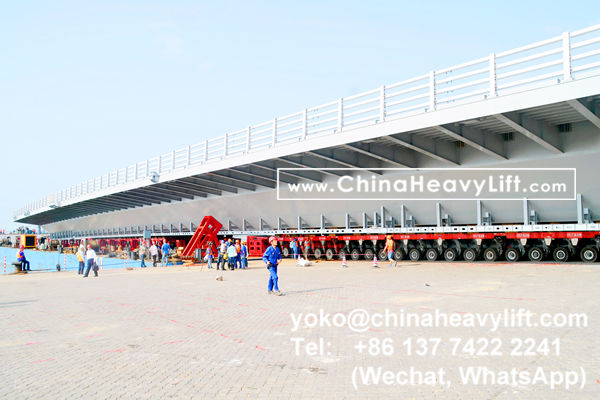 The most difficult is, when SPMT move onto the barge, the barge will swing and tilt with the change of weight. So how to keep balance? Thanks to the hydraulic steady system of CHINA HEAVY LIFT SPMT Self-propelled Modular Transporters, which adopt reliable Germany brand main components and have hydraulic compensation stroke of 700mm (±350mm). Hydraulic support cylinder on suspension is connected to each other by steel pipes and hose. With a cut-off valve (ball valve) for grouping the hydraulic cylinder. Support system is set to three hydraulic group according to cargo weight, center of gravity location and road conditions. This ensures a uniform axle load in Uneven road when traveling. Besides, the barge is equipped with pressurized cabin to outward drainage to ensure the balance.
Through two hours efforts, CHINA HEAVY LIFT SPMT Self-propelled Modular Transporters successfully assist the 3200t giant bridge section roll-onto the barge, this is the first step of Hong Kong-Zhuhai-Macao CB02 project, one historic move in Chinese Bridge Construction area. But For CHINA HEAVY LIFT, just another case with SPMT.